The challenge this week on Arty Girlz is make your own background we also have the very Talented Paula as our guest designer check out Paula's blog HERE.

We also have a fantastic sponsor this week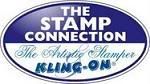 the lovely Jennie sent Julie and myself some Gorgeous stamps and some of white chipboard shapes to play with







The stamps are deeply etched and stamp beautifully, the white chip board shapes include tags flowers wings etc . and are just fantastic.
Here's what i did .
An 8 x10 canvas
I used acrylic paint for my background randomly stamped the images , printed my image and attached her to the canvas and applied gesso over the whole thing ,painted the chipboard flowers and gesso'd over the top and added tiny little clear Jens to them.
A Tag
I used one of the large white chipboard tags for this i water coloured the background then stamped with the circle stamp. printed my image which was black & white and used water colour paints over the top i love doing this at the moment you get a picture that looks like a real water coloured painting i have not added any ribbon to this at the moment as i didn't have the right kind.
Altered Domino


I used alcohol inks for the back ground stamped the key image highlighted in silver krylon and edged the side in silver as well.
A medium Tag
I'm not sure what i was doing with this one LOL i covered the tag and wing with a gold oil pastel crayon used alchole inks over the top then rubbed the gold off its got a lovely shimmer which the camera isn't picking up then i used the stamps and randomly stamped the watch,key and words, i punched a hole through the tag and wing and secured with ribbon , told you i wern't sure what i was doing with this LOL
A card
I made the card just to throw in the mix and before you all tell me off i know its not my own back ground LOL but i liked it LOL i covered the card blank with freebie paper from a mag used a chipboard flower and threaded the ribbon through used foam pads to attach then added the same ribbon on the card and a rub on on the bottom.